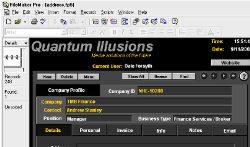 Every business should have a database of some description. Whether it is for tracking jobs your company has done, or a simple address book for tracking your clients.
We can build one to met your needs, from tracking your clients to stock and inventory and we can expand it to include things you have not thought about... Today's databases are powerfull tools and can be used for a variety of applications for any business no matter how big or small and to meet the needs for a growing company.
These databases are easy on the eye and very easy to use. They can be as big or as small as needed. We have designed many databases including some for Real Training International, Pikiake te Rito, PenPlus and of course our own database system. We use FileMaker Developer 5 Pro and Filemaker 11 and will export the database into a stand alone, usable and workable format for your system, all you will have to do is start using it.
Client Address Book.
Job Tracking.
Inventory.